RESULTS
We're so proud of our teachers and students who work so hard to achieve at a top-level. Summaries of our results and successes are available for download below. At ISCT, there's always a reason to celebrate!
SUMMARY OF IGCSE, AS & A LEVEL RESULTS FROM 2017 – 2021
We are really proud that ISCT has consistently outperformed the Cambridge global average across the different grade bands in the subjects which ISCT offers. This is a testament to the depth of experience of our staff in teaching the Cambridge curriculum and to our students' engagement in their own learning and desire for academic excellence.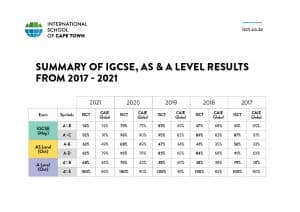 UNIVERSITY RECOGNITION
The Cambridge Assessment International Education allows our students to enter tertiary education anywhere in the world. The following is required for acceptance into tertiary education institutions:
Entrance requirements for South African universities and colleges:
In order to gain entrance into a tertiary institution in South Africa, a student must have a matric exemption.
The Matriculation Board requirements for this exemption are as follows:
Please note, all grades must have been achieved in two examination sittings.
For more information on conditions and requirements to gain exemption for entry to South African public universities, please download our brochure.
FULL EXEMPTION
2 A-levels (grades A-E) + 3 IGCSEs (grades A-C)
OR
3 A-levels (grades A-E) + 1 IGCSE (grades A-C)
Which must include:
English Language
A second language (at IGCSE or AS level)
Any other subject which could be taken at a South African school
OR 4 AS-levels (grades A-D) + 1 IGCSE (grades A-C)
Which must include:
English (as a first or second language)
A second language (as above)
Two subjects from two groups of subjects given below + one other subject
GROUP III: a third language, Biology, Chemistry, Mathematics, or Physics.
GROUP IV: Art, Biology, Chemistry, Economics, Geography, History, Mathematics, Music, or Physics.
GROUP V: Accounting, Business Studies, Computing, Design and Technology or Further Mathematics (only if accompanied by IGCSE Maths C grade).
FURTHER INFO
All students writing foreign examinations are considered under immigrant status, which means that they don't need an official South African language as a second language.
Students with foreign qualifications may be granted a foreign conditional exemption by USAF if a student does not meet the additional language requirement.
In addition to the matric exemption, most SA universities also have a points systems, based on subject choices and grades achieved. Students wishing to enter a particular field of study require enough points for that chosen field. The ISCT Director of Studies will be able to provide further information about points. Alternatively, university websites will have the same information.
Matriculation without exemption (for certificate and diploma courses) can be achieved with the following combinations:
2 AS-levels (grades A-E) + 3 IGCSEs (grades A-C)
OR 2 AS-levels (grades A-E) + 5 IGCSEs (grades A-E)
OR 1 A-level (grades A-E) + 5 IGCSEs (grades A-E)
OR 1 A-level(grades A-E) + 3 IGCSEs (grades A-C)
Entrance requirements for some foreign universities:
In brief,
United Kingdom
United States of America
12 years of schooling (including High School)
Both AS and A levels are recognised
SAT I and SAT II
Australia
The link below takes you to the Cambridge Recognition database – an online directory of institutions worldwide which accept Cambridge qualifications.