RETURNING TO SCHOOL
What you can expect:
Classes will be split into two halves – Group A and Group B.*
Each group will alternate days at school.
We have set up the class lists so that siblings attend school on the same days.
For the very first week, we will be staggering our start dates and times for each year group to ensure that our morning health check procedures work efficiently.

ARRIVAL
An adult in scrubs will do a health check while your child is in the car at drop-off: If your child has a raised temperature or shows any symptoms of illness, you will need to take them back home. For the health of all at school, please don't send your child to school if they are unwell in any way. Parents must please avoid leaving their vehicles or entering the school building unless absolutely necessary. KS2 children will enter the building via the far entrance in the staff car park (outside Year 3). X's marked on the ground indicate a safe distance to wait in a line at this entrance. Shoes are sanitized at this entrance point and then children go straight to own classroom. Rain gear and an umbrella are recommended on wet days.

We would like children to wear school uniform whenever possible – either formal or sports kit. Clothing items must be washed after each school day, so if necessary neat civvies may be worn. Please try to stick to school colours. Closed shoes/trainers must be worn.
LESSONS
Teachers will repeat lessons on alternating days: Group A and Group B will each have the same lessons on their day at school to ensure as much opportunity for contact, teaching, and assessment as possible. Live video sessions will be run using the Google Meet app. We will be trying to avoid working in books or on paper, and lesson materials will continue to be shared in Google Classroom whether you are at school or at home.

Children should bring their iPad, own reading book, and other quiet activities to school as we will avoid using classroom games during rainy break times. Pencil case may stay at school;
stationery may not be borrowed or shared. Please bring in a packed lunch and water bottle.
BREAK TIMES
Break times will be staggered across the key stages to reduce the number of students in each area of the grounds. Classes will use specific entrances/exits to avoid queues. Children must bring in own packed lunch and water bottles. Year groups will be allocated to specific outdoor zones. Adults on duty will help to control physical distancing, along with markings and signage to remind children of rules.
Playground equipment will be sanitized after each break.
---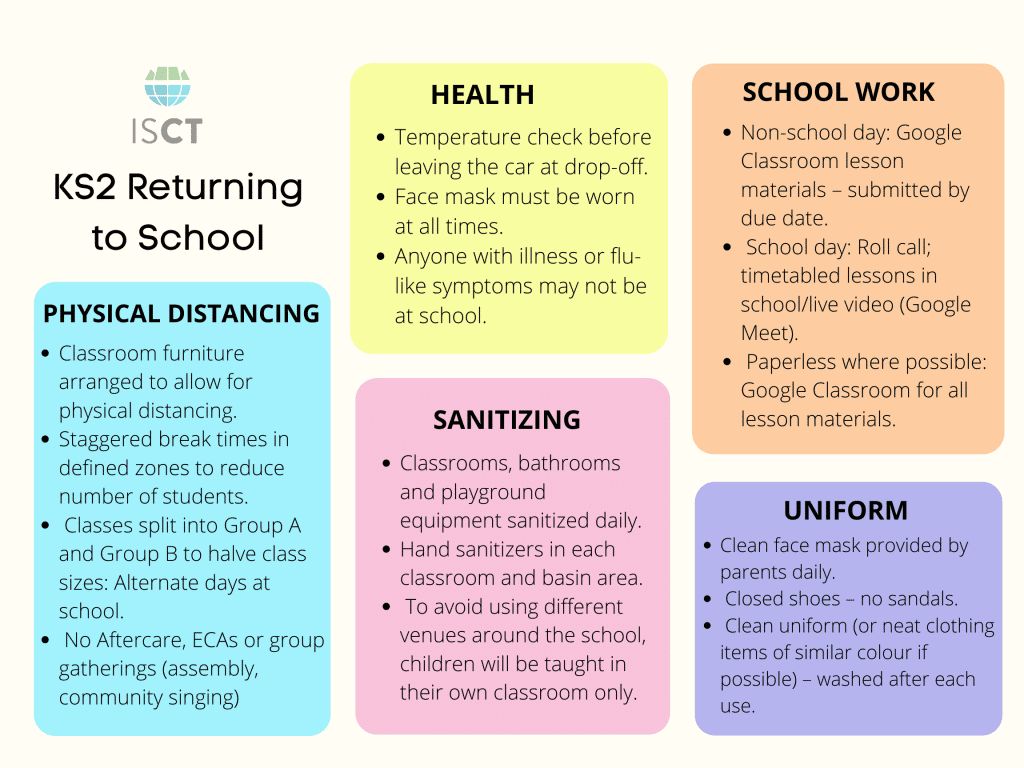 OUR LATEST NEWSLETTERS